I love summer produce. Seriously. Fresh corn, tomatoes, okra (counting down the days until August for this one)... these are a few of my favorite things.
I am always thinking of different ways I can use up fresh summer corn. This sweet corn pudding is a go-to. You can always substitute in (thawed) frozen corn if you'd like--or don't have fresh corn on hand--but I'd highly suggest trying it with the real deal for that extra sweet summer flavor!
Ingredients
6 cups fresh corn kernels (about 6-8 ears corn, depending on size)
½
cup melted butter, cooled
5 large eggs
2 cups half & half or heavy cream (or 1 of each)
3 tbsp sugar
2 tbsp flour
2 tsp baking powder
2 tsp salt
Set oven to 350
°
Step One
Melt butter. While butter is cooling, remove corn kernels (cutting as close to the cob as possible to get all the good stuff).
Step Two
Whisk eggs, then mix in butter and half & half (or cream).
Step Three
Stir together remaining dry ingredients, then add to egg mixture. Slowly stir in corn. Pour into a greased 9 x 13 glass dish and bake for 40-45 minutes, or until set/slightly golden brown.
Enjoy, y'all, and happy summer!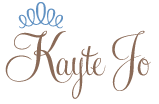 Recipe adapted from Southern Living magazine.